Seasons Greetings from the ILC! 
Its been an exciting year here at the Independent Living Centre, and we have enjoyed meeting visitors to our centre as well as going on the road to talk to support groups and carers groups. Please contact us if you would like to bring a group to visit us. We have parking and level access.
We also invite new members to our 'Service User Group' for 2019. If you would like to help us to develop and maintain the service in the future, please contact us. We ask for feedback by phone, email or post and this feedback is invaluable to shape the service we run. 
It's not all work and no play – Haven Banks activity centre in Exeter gave us a flying start to our Christmas celebrations, with our Occupational Therapists taking the plunge with a 23 metre jump from the climbing tower dressed as Santa!
Gadget Gift Ideas
We have been on the hunt for gadget gift ideas for your loved ones at Christmas; here are some of our favorites. They are all at the ILC so come and see them in action!
Active Hands are always amazing us with their innovative solutions to practical problems, helping people with reduced grip to mange daily activities. Their 'Small Item Gripping Aid' is a glove with a Velcro pad attachment for holding tools from a pencil to a make up brush! 
We are  also impressed by their 'Spill Not Cup Holder' designed to help you carry your drink without
spillages, even if you don't have a steady hand.
We also tested the 'Rosebud Reminder Clock' from Ravencourt – a simple to set up clock to which you can add audio & visual reminders. A great product for £69.99! 
Smart and functional, the 'HelpOnHand Watch' from Oysta is not only a watch, but also includes reminder messages, location tracking and an SOS button offering a simple way to call for assistance!
'The Droplet' is a nifty mug and tumbler set which monitors the frequency of your drinking. It lights up to remind you to drink, and can be personalised with voice reminders. 
APPy Christmas!
Our Occupational Therapists are pleased to be working in partnership with my-therapy www.my-therappy.co.uk to find the most useful free Apps to help with day to day tasks! Our favourite this month is 'Prompt' by Memrica – create reminders and make them personal to you using photographs and locations. Available on iOS technology.
---
News from the Independent Living Centre:
An OT student experience
The scariest part of my Occupational Therapy degree is definitely the night before placements are allocated. As a student, we are given three placements over our degree, with varying degrees of pre-placement nerves; will I like my placement, will I be good enough, and have I made the right choice in my degree (and future profession)? However, when I started my student placement here at the Independent Living Centre, I not only felt I'd found the right placement, but I'd made the right choice for my future profession.
The Independent Living Centre is a free and impartial service that can assess service user's requirements and help users to find and try out the best equipment to suit their needs. The range of assistive equipment was staggering, and I was shocked that there were so many simple and creative gadgets to help with day-to -day difficulties that I never knew existed. For instance, if you struggle to put your socks on in the morning, you can try the Ezy-On Sock Aid, a simple frame that you can cover with your sock and push your foot through! If you struggle with eating your meals, you may like to try the wider grip cutlery, the S'up Spoon (a covered spoon to avoid food falling off) or even a simple plate guard, which can allow you to eat one handed or prevent spillage from shakey hands!  If you have difficulty transferring from your car, the Handy Bar is a simple and lightweight device which hooks onto your car door frame for you to push up from. One of the gadgets that impressed me the most was the Easi 2 Drink Mug with insert. To the casual observer, it looks like any other plain mug but with an odd, plastic frame inside. However, this ingenious invention was designed for those at risk of spilling hot drinks, as the insert can reduce the wave motion of liquid.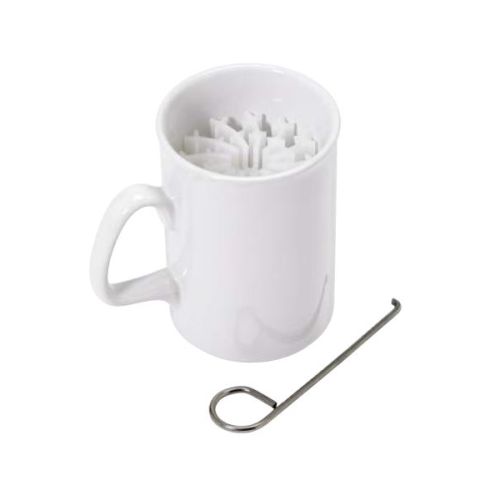 The great thing about the Indepdent Living Centre is that they do not sell any products; therefore service-users can make appointments to see and try up to date assistive equipment without any pressure to buy, all whilst being supported by a welcoming and informative Occupational Therapist who specialises in assistive equipment. During my placement here, I have observed first-hand how beneficial service-users find this support; they can explore more complicated equipment before they make a commitment to purchase, or they can be advised on simpler or cheaper alternatives. For example, one couple this week were considering making the larger investment of a profiling bed (retail price around £3000), however the Occupational Therapist suggested a mattress variator profiling frame, a much cheaper device which fitted under their mattress, provided the same motion and meant they could keep their much-loved bed!
As a student at the ILC, my experience has opened my eyes to a whole new world of equipment that can make people's lives so much easier, and a range of creative solutions that can help service-users maintain independence and autonomy in the activities that bring them meaning and enjoyment. I am excited to continue my placement here, and look forward to the knowledge I will gain when my 9 weeks is up. Who knows, I may one day be asked, as an Occupational Therapist, if a device exists that can stop liquid spilling out of a mug, and I'll know exactly what to say!
---
2nd AUGUST EQUIPMENT NEWS
We are pleased to launch our new look website where we will be able to keep you up to date with gadgets, innovations and equipment that we have at our NHS and Devon County assessment centre here in Devon.
Technology Enabled Care (TEC) is constantly evolving with more people using 'Smart Home' systems to enable independence at home. We are fortunate in Devon as many of our local telecare call centres have added new technology enabling their traditional alarm systems to be linked to equipment such as linking smoke alarms, fall detectors and door openers. Some centres now offer rental of wander alerts which can give carers peace of mind that the person they care for can have the freedom to access the local community but can be located easily using a map location on their phone. The Pebbell Tracker is one of the simple tracker devices that Home Call Alarm services are using in Devon. See a list of local call centres on our website.
Your own mobile phone or PC can give access to Smart Home Technology and phone apps to monitor care and health needs as well as controlling your environment by adjusting heating, lighting, and even answering the door. The new range of doorbells with a camera mean that you can see and speak to whoever rings the bell, using your phone form wherever you are.
With more people working at home and using their PC for leisure activities we are increasingly asked for information about office seating that is comfortable, supportive and functional. One of our team recently attended training with Ergochair and we have some of their range here for you to try. A wheeled office chair is tricky for getting on and off but some companies make more specialist models with brakes that can be operated from the seat, call us for information about these. We are pleased to have increased our display of computer hardware, including ergonomic and vertical 'mice' like the Penguin mouse from Posturite; come and see if it works for you.
Back to basics and talking continence, we have urinals and collection devices here but we can't find better than the Beambridge unisex draining urinal, connected to a collection bag, handy for women and men to use in bed or chair without the risk of spills. Beambridge also supply a wheelchair cushion with a cut out to assist when using the urinal while seated. We can give advice and information about clothing choices that make urinal use easier.
Call us to discuss clothing  choices to keep cool this summer. Keeping cool at night can be a challenge and the mesh construction of the  Zonesleep overlay is designed to allow air to circulate when in bed, keeping skin cool and dry. We have one here if you want to see it in action.
We hope you find our new website interesting and useful and easy to navigate; we look forward to hearing your feedback.
From the ILC Occupational Therapy Team